DutyCalc Blog
Privileged persons or entities may be allowed to import vehicles duty free to Kenya.
Persons allowed to import vehicles duty free include but not limited to the following
UN bodies, and staff
Diplomats working in Kenya
Returning residents
Persons living with disability
Government of Kenya and project partners
The privileged persons and entities may at some point want to dispose off the motor vehicles after some time, due to reason like, end of contract, need for vehicle upgrade, end of a Government project, gazettement of sale of government vehicles etcetera.
Before ownership of motor vehicle can be transferred to another person, privileged or non-privileged, approval must first be sort from KRA customs Services department by the current owner.
The current owner must enlist the services of a licensed customs agent. Derrickson systems Ltd is a licensed custom clearing and forwarding agent, that is well versed with the East African Community Customs Management act and regulations.
The Customs agent will provide the following services in the indicated order
Advise on the prerequisite documents required.
Liaise with valuation section of the customs services department and advise on duty, levies and all taxes payable. Get a quote at www.dutycalc.co.ke
Prepare customs form C17B form document for purposes of duty payment.
Facilitate physical verification of the motor vehicle by a customs officer
Seek approval from the KRA Enforcement department, Vehicle Management Section (VMS). Vehicle details must have been entered in the NTSA's, TIMS system
Seek approval from the Customs Valuation Section and facilitate payment of extra taxes and levies not captured on the form C17B
Seek approval from KRA- Revenue and Regional Coordination (R&RC) Section
Liaise with the Document Processing Centre and the releasing officer for final approval, clearance and release for further processing with NTSA
Liaise with the privileged body protocol office to facilitate reregistration and transfer of the motor vehicle at NTSA offices
Below are the prerequisite documents required for customs clearance of vehicles imported duty free before transferring ownership.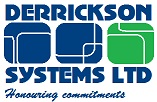 Derrickson systems Limited is a licensed Clearing/customs and freight forwarding agent company in Kenya.
Freight Forwarders and Clearing/customs Agents play very important roles in the supply chain
Below is a brief over view of some of their roles;

Freight Forwarder's role in the supply chain:
Traditionally the Freight Forwarder's role has been confined to arranging transport and preparing documentation as an agent of the shipper (importer or exporter depending on the INCOTERM).
With new developments , the roles of the freight forwarder have drastically changed due to containerization and multimodal transportation. Instead of acting as an intermediary only, some become transport operators offering container services, as well as multimodal inland and international transportation. We know them now as non-vessel operation common carriers (NVOCCs) and can issue transport documents.
The Freight Forwarder can therefore fulfill one or more of the under mentioned services:
Act as a shipper's agent arranging transport services and preparing documentation.
Act as a transport specialist advising shipper on the most cost efficient and best means of transport.
Act as a multimodal transport operator (MTO) which means he becomes the principal transport operator with the direct contractual responsibility for carriage of goods door to door, assuming liability for those segments of transportation for which he himself may not be the actual operator.
Act as a specialist service provider in packaging, container packing / unpacking, customs clearances and raising marine insurance claims.
Clearing/customs Agents' role:
Clearing/customs agents act on behalf of the shipper (importer or exporter depending on the INCO Terms) and arrange for the customs clearances of goods at the customs entry or exit points.
Their main roles includes but not limited to the under mentioned.
Determining the correct harmonized system tariff codes (HSCODE) of goods for customs duties.
Value goods in accordance to the East African Community Customs Management Act (EACCMA) and calculate import duties and taxes payable.
Facilitate clearance of goods through all the relevant government agencies and ensure that all the necessary documents are prepared and availed on time. Heavy penalties may follow the clearing agent and the importer / consignee where rules are not adhered to.
Facilitate remittance of taxes to the relevant Customs Authorities
Facilitate physical customs verification of cargo with the relevant government agencies and avail all the necessary information and documents on behalf of the consignee/consignor, i.e. ensure all requirements that need to be met, are met before a release order/approval can be obtained, to avoid penalties / delays.
After cargo is cleared for release to the owners, or for shipping, various processes need to be followed for the cargo to be delivered accordingly
Air – draw cargo from ground handling agents or handover agents' warehouse and deliver to consignee.
LCL (less than container load) – goods are collected from a specialized customs licensed warehouses and delivered.
FCL (full container load) – release notice/delivery order arranged depending on the shipping line depot and transport agreement, then and only then will the container be delivered to consignee.
Road freight – all depends on the INCO terms and limitations of the vehicle / site to where the cargo needs to be delivered upon customs release.
 From the above summary we are sure that you agree with us, customs clearance and freight forwarding would rather be left to the experts as small oversights and mistakes can lead to hefty customs penalties and costs.
Before you proceed to engage a freight forwarder or a clearing agent ask all the relevant questions to ensure that all your requirements are met to the letter,  to make your project a success.
 Derrickson system Limited is a licensed clearing/customs and freight forwarding agent company. Contact George at +254722478121 or email info@dutycalc.co.ke or info@derricksonsystems.co.ke  to book a meeting and discuss your specific needs. We look forward to serve you now and in the future.
Keep safe. Being alive in the year 2020 is 100% profit made.
Yours Sincerely,
CEO
DERRICKSON SYSTEMS LIMITED/ DUTYCALC KENYA
GEORGE NJENGA
Left Hand Drive Vehicles for Returning Residents
 A Kenyan Resident returning from a country that operates Left Hand Drive (LHD) motor vehicles shall be allowed to import a replacement Right Hand Drive (RHD) vehicle from any other source subject to the following conditions:
The person must be bona fide changing residence (Permanently) from a place outside Kenya and not merely making temporary visits back home.
The person must fulfill all the requirements for importation of personal and household effects by a returning resident as outlined under paragraph 5 of part B of the 5th schedule to the east African Community Customs Management Act, 2004.
The returning resident must proof that he/she owned and personally used a LHD vehicle in the country of former residence for a period of at least one year, prior to his/her return.
The returning resident must provide proof of disposal (Transfer of ownership) of the previous owned LHD vehicle before changing residence from the former country of residence.
The current retail selling price (CRSP) of the RHD replacement vehicle shall not exceed that of previously owned LHD vehicle.
Both the previously owned LHD vehicle and the RHD replacement vehicle shall not be of any of the following categories: -
Bus or Minibuses of a seating capacity of more than 13 passengers
Load carrying vehicles of load carrying capacity exceeding two tones
The replacement vehicle must comply with the Kenya Bureau of Standards requirements of Legal Notice No. 78 of 15th July 2005 (Verification of Conformity to Kenya Standards Imports Order, 2005) and KS1515:2000 Kenya Standard Code of Practice for Inspection of Road Vehicles.
These guidelines shall only apply to residents returning from countries that operate LHD motor vehicles who had previously owned and used a LHD vehicle in the country of former residence.